Automotive coupling
align set clutch, 17 pcs. (AUTM-01459).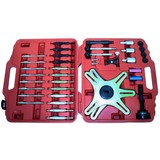 Self-adjusting clutch (de) mounting kit. Suitable for Installation of the self-adjusting clutch in all types of vehicles. (AUTM-01136).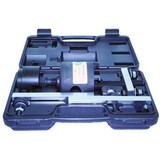 Duplex Clutch Repair Kit for VAG DSG transmission.
Automotive coupling

Is
your
coupling
worn
or want to
readjust
your
coupling
?
Then you will
need to have the
right tools
in-house to
do this
.
Because each
manufacturer has its
own standards,
you
will have
also have different
tools for different
couplings.
Fortunately
Trailer
And Tools
has a
wide range of
automotive
coupling
tools.
So
something for everyone
.
The advantage of
the tools you
are
buying
from us
is that they are
in
a proper
solid case
,
which makes it easier
to keep them
safe
for a longer period of time.
It's
also
easier to find
a suitcase
than
one
wrench.
Trailer And Tools is your specialist in automotive tools
If you are looking for tools to work with your car, then you're at the right place at Trailer And Tools. We specialize in automotive tools. This does not mean that we provide only automotive tools, you can also just come to us for a hammer or a saw. But for specialized automotive tools and parts you're at the right place at Trailer and Tools. If you first want to seek advice about your project, please contact us. Our technical department can advise you about your problem.

Trailer And Tools is more than an online store
Of course you can order your tools and components from our online webshop at any time of the day. If you find it more comfortable to come into our store, you are of course welcome to do so. We have a very large store with a thousand and one tools and parts in stock. Also, our skilled staff can provide you advice on the shop floor while you are enjoying a cup of coffee. So if you are looking for coupling tools, come to Trailer And Tools!