Cooling System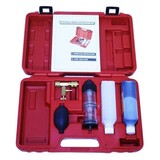 Cylinder Head Tester, including contrast agents. (AUTM-01562)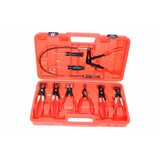 Flexible hose clamp pliers set, with 7 different pliers (AUTM-01385).
Cooling System
At Trailers and Tools you are at the right address for everything you need when it comes to the world of automotive parts and / or tools. You can't think of it or you will find it in our extensive range. Even when it comes to the cooling system of your car, we have a wide range available to you.
The cooling system of your car is, of course, very important for your vehicle. If there is any repair or replacement, then not only is there a concern for the cooling system itself, there is also a need for accessories, certain parts and of course tools.
If you are looking for parts, tools or accessories when it comes to your cooling system then you want a guarantee of good quality, attractive prices and good service.

You can find it all at Trailer And Tools
Trailer And Tools has the range when it comes to automotive parts and automotive tools. Even for a cooling systems you will discover our offers. We make exclusive use of products that have proven their quality. So not only do we give you all the choice, but also a guarantee of quality. But it doesn't stop there. Besides top quality we also give you a lot more benefits.

Quickly ordered and fast delivery at home
Not only do we have a very wide range, but we also maintain a large stock. So we are able to deliver your order at home as soon as possible. We believe that is nonsense that you should pay too much. Our prices are sharp and our service is excellent. If you have questions, you can always contact one of our expert staff.
Order quickly on our website or visit our showroom in Hengelo.