Vises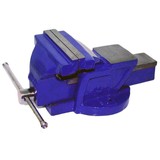 Vise 125mm with fixed base (WERK-00261).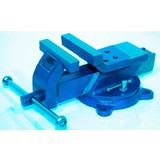 Vise 100mm with swivel base, screw Bank, Vises, vise (WERK-00242).
Vises
When you start working in your workplace, it is important the thing you are working on remains firmly in place. Fortunately, vises are invented for this. With the help of a vise a piece of metal, wood or other something can be held firmly, while you are working on it. It is therefore wise to purchase a vise for your workbench, just where do you get this? Fortunately, for tools, spare parts and workshop equipment you can go to Trailer And Tools. We have a wide selection vises which you can choose from. From a small vise that you can clamp the tabletop up a strong one that you have to secure to the tabletop with screws. The advantage of heavier model is that you can turn this one on its stand. So you actually more workspace, depending on what mode you set your vise on.
About Trailer And Tools
Trailer And Tools is a company that specializes in selling automotive tools, parts and workshop equipment. That we have specialized in automotive does not mean we have nothing else, only that we are offering a wider range of automotive products. Thus at you are at the right place for a hammer, saw or screwdriver. But also for an engine tuning kit, lights and various parts for cars and trailers. We also sell a wide range of products for your workplace. A jack and a crane to lift up a motor, welding devices and thus also vises.
Trailer And Tools sells online and physical
You can easily get your vise ordered directly over the Internet, when you do this before 2 o'clock in the afternoon, then the chances are that you will receive your vise the next day. But you may choose to come buy your vise in our extensive store in Hengelo. Here, our experienced staff will advise you while you are enjoying a cup of coffee. That way you can be sure you walk out the door with the desired product. So choose a vise from Trailer And Tools.