Oil Filter Pliers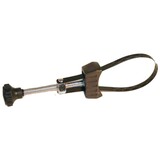 Oil filter wrench screwed model. (AUTM-00336).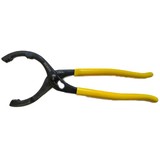 Oil filter pliers, oil filter wrench (AUTM-00349).
Oil Filter Pliers
For all kinds of automotive tools you're at the right place at Trailer And Tools. We also offer all kinds of hand tools, of good quality and available at attractive prices. In addition to issues such as measuring tools, hammers and screwdrivers can be found in a large range of pliers from us, which you can use for various purposes.
In this category of Trailer And Tools is the oil filter pliers. You perhaps know that your oil filter is difficult to grasp, especially when there is oil on it. You can not get a grip and can remove the filter by hand difficult. Fortunately, there are filter pliers in different types. This allows you to remove your oil filter with minimal effort.
Oil Filter Pliers exist in various types
Oil Filter Pliers exist in various types, such as a metal chain with a leather strap or a metal rod which allows you to grip well. Which type you choose depends on the situation and your personal preference, but we can say in general that with the correct oil filter pliers it is a lot easier to get the filter loose.
Check aside from this category also our other pliers and our other tools. If you in addition to working with an oil filter need to do even more tasks to your car, it's wise to take a look also to our large stock of automotive tools.
Everything you need for the jobs on your car
Trailer And Tools has all the tools and accessories for countless tasks on your car. You can easily order and pay the selected products and have them quickly delivered at your home. All our products are of high quality, without paying too much.
Besides ordering products in our webshop, you can visit our spacious store in Hengelo, Overijssel. The coffee is ready and our staff is available to you, if necessary, provide expert advice. Bring your project to a successful conclusion with the products of Trailer And Tools!