Flare nut wrench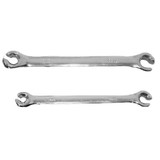 Flare nut wrench 2 parts inch, open wrench, two-part Ring spanner open.
(GERE-01234)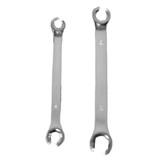 Flare nut wrench two parts, open wrench, two-part Ring spanner open. (GERE-01233).
Flare nut wrench
If you want to replace brake lines then you need special wrenches. Namely a so-called flare nut wrench. A flare nut wrench has a narrow opening just wide enough to allow the wrench to fit over a tube, the idea is that you can fit the wrench around the brake line, and then rotate the nut. This way you can tighten the brake again. You can then easily disconnect the wrench with the narrow opening.
Replacing a brake
The replacement of a brake or a drum brake is a lot of work. You must know what you will do and how you can best approach your job. It is advisable to properly search the Internet for tutorials on how to approach your job. Then it is also important that you have the right materials at your disposal. Besides of course the new part, or of course the new parts, having the right tools is also very important. So you can easily and quickly release the brake with the right tools, and tighten it again. Without that you are going to mess around with all sorts of other tools. If you replace a drum brake, replace it on both sides of the car to prevent that your car starts making strange movements during braking.
Trailer And Tools Your expert in automotive tools
Trailer And Tools is a company that sells all sorts of automotive tools, parts and workshop equipment. We have specialized in the automotive field. Thanks to our experience we can answer all questions about your project. So if you have a question please contact info@trailerandtools.nl or visit our store in Hengelo. You can of course easily order all your products at us directly via the Internet, but please do come and visit our store. Our skilled staff will be happy start a discussion about your project while enjoying a cup of coffee.