Fork / Ring combination wrenches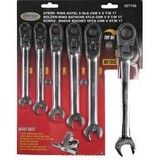 Combination ratchet wrench, flexible, 6 Piece Metric (GERE-00417).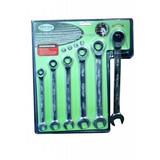 Insert ring ratchet spanner set, 6-piece, Metric (GERE-00418).
Fork / Ring combination wrenches

A complete workshop or garage gives you the advantage. That way you will make sure that you get every job done in a proper and efficient manner. Your tools, parts and accessories are an extension of your work and deserve the same attention to quality as the work you perform. So it's natural that you want a wide amount of choices are offered to you at competitive prices and the quality of the product you have choosen is garuanteed. At Trailer and Tools you will discover a wide range of various tools, trailer parts and much more. Similarly, the range of fork and ring wrenches
Make your choice

Several workshops and owners this means there are several demands about the tools that have to be present. Trailer And Tools has for this reason developed a very wide range that gives you a lot choice. Even when it comes to fork/ring(combination) wrenches you will discover all the possibilities from our range. So you can find the product at us independant from your requirements and budget. from extensive sets of 80 parts to the more modest seven-piece sets. Also accessories can be found at us. For example, a storage system for your wrenches, you will discover in our range. In addition, we select only products that meet our strict quality standards and you definitely don't need to be afraid that you paid too much at us.
Quality, competitive prices and good service

Life is expensive enough. We at Trailers Tools make sure that we buy in bulk. This makes it that we can offer very competitive prices. This ensures that you are buying quality for the best price. This large stock also means that we process your order quickly. If you have questions or are looking for advice you've come to the right place, we can help.