Half moon spanner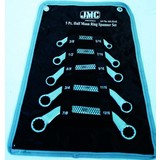 5-piece bent wrench set inch sizes (GERE-00712).
Half moon spanner
When you need to tighten bolts or nuts then spanners are actually indispensable. When these bolts or nuts also hard to reach a bad  then a half moon ring spanner from Trailer And Tools may be the solution to your problem. With the special shape of this type of spanner, they can go to places that would otherwise be very hard or can't even reach. So choose the half moon ring spanner of Trailer And Tools, then you are sure that you can properly tighten your bolts and nuts, even in hard to reach places.
About Trailer And Tools
Trailer And Tools is a store that specializes in selling automotive tools, parts and workshop equipment. This does not mean that we only sell automotive tools, you can also come to us for normal tools. Over the years, we have come to the conclusion that a lot of different tools may be required. Every car and trailer is different, and again needs its own tools and spare parts. Sometimes you have to fix something in awkward places and then special wrenches are needed for that. Of course it is not possible to locate the factory tools for any type of car, because you have only one car, while there are built in a factory like many thousands of that particular car. That is why we opt for to deliver tools that can be used in more places while in a factory is chosen for a particular tool for that particular model.

Trailer And Tools is your store for half moon spanners and other tools
You can quickly and easily purchase your half moon spanners and other tools through the online webshop of Trailer And Tools. Also, you are of course welcome in our spacious store in Hengelo where you'll find our wide product range on display. If you have questions please contact Trailer And Tools through an e-mail or visit our store.