Flightcase braked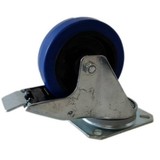 Flight Case caster with brake. (ZWEN-00026).
Flightcase braked
A flightcase gives you the chance to in a practical way store a wide variety of products conveniently, neat and safely. A big advantage here is that you have the possibility to move it easily. An additional point though is that the wheels that make this possible happen to be subject to wear. At Trailer And Tools you discover the provider when it comes to automotive parts and automotive tools. The appropriate selection of castors for your flightcase may not be missing. We apply a strict selection process when it comes to the products in our range. The quality is guaranteed with us, but we also give you plenty of choice. Similarly, you will discover at us the choice of castors for your flightcase with a brake system.
Everything for your workshop
A large capacity and plenty of space to move efficiently is what we give you in our selection of castors. In addition to the braked version, you can make a choice at us from a wide range of these castors, and more. As mentioned, the guarantee is high, so there is a long life. This is important when it comes to the wheels of your flightcase. However, the advantages we that we offer do not stop here.
Why pay too much?
Not will you discover  a wide range of the most different articles for your workshop or garage at Trailer And Tools, but we also maintain a large stock. For you this means that we are able to process your order quickly and so you can get started quickly. By buying in bulk we can also offer very competitive prices across our entire product range. Order quickly on our webshop or visit our showroom in Hengelo, the coffee is ready.