Good and cheap flightcase wheels ordered online. castor, swivel castor with or without brake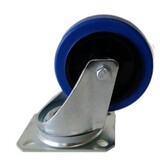 Flight Case castor, 100mm (ZWEN-00027).
Flightcase Standard
A flightcase gives you the opportunity to store several articles in a practical way and, if necessary, easy to move. This means that when it comes to the use of your flightcase in practice it often appears that the wheels are most subject to wear. So naturally if you're looking for new wheels you want a guarantee of quality and durability you expect that you have any choice in choosing wheels. Then you've come to the right place at Trailer And Tools. We are your provider when it comes to automotive parts and automotive tools. A wide range of wheels for flightcase, including the standard variant, may obviously not be lacking.
Simply make your choice
We apply a strict selection process when it comes to the products offered by us. This also applies to the standard wheels for your flightcase. Not only will you have the freedom to adjust your choice on your needs and budget, but also know that regardless of your choice it always involves a more than decent durability. Do not be afraid that our wide range will be too much for you. Our expert staff will gladly assist you with advice and guidance.
Good service and a strong service
You can contact us for advice, and more. Aside from that, we at Trailer And Tools we not only operate a broad and diverse range but also a large stock. So we are able to process your order quickly and you can get started quickly. By buying in bulk, we are also able to offer very competitive prices. At Trailer And Tools you never pay too much. In addition to our webshop you can also visit us in our showroom in Hengelo, the coffee is ready.