Wagon / Hand truck tires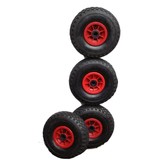 Wagon / Trolley Wheel with plastic rim (WHEEL-00012).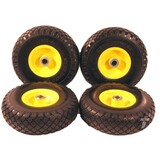 Wagon / Trolley Wheel, Anti-puncture (WERK-00013).
Wagon / truck tires
As your provider of automotive parts and automotive tools, you can also come to us for a wide range of accessories. Whatever your choice, you can expect a guarantee of quality from us because we use a strict selection of our entire product range. This obviously applies to the different wheels and tires that can be ordered from us. Also wagon- and truck tires are well represented in our collection. These are offered under the same conditions as the rest of our strong product range. High quality means a long life, but in addition a strong quality and a lot of choice, we offer you many more advantages.
Please complete workshop
With us you have all options to adjust it to your needs and of course your budget. We give you every opportunity to make your choice, but if you can't make up which item best fits your situation or if you have other questions, too, then please contact us. Our skilled staff are ready to assist you with advice and guidance. This does not end here, we will give you access to our product range under very favorable conditions for you.
Do not pay too much
Not only do you discover a broad and diverse product range at us, we also have a very large stock. By buying in bulk, we can provide you with competitive prices. A fact that you will notice in the wallet. A large stock means that we are able to process your order quickly. Your order quickly at home, so you can quickly get to work with it. Do you use our webshop or you pass in Hengelo. In our 600m 2 showroom, you can get a good picture of our articles. The coffee is ready.